Animapop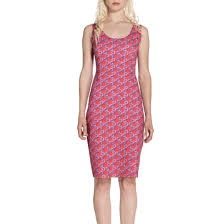 About Animapop
Animapop is a fabulous Italian clothing collection that creates original laser cut, lightweight neoprene reversible printed dresses that are wrinkle proof, do not need ironing, easy to wash and most importantly, TRAVEL FRIENDLY! Each dress comes in it's own fancy drawstring bag to store or travel with. They are absolutely the perfect reversible dress!
Any photos used are to represent the brand, but may not reflect the exact stock carried in store.
If you have any queries about availability, please contact us before making a visit.
Stephen Lawrence Mens Shop
11 / 14 St. Martin's Street
Chichester
West Sussex
PO19 1LS
Telephone / Fax: 01243 771 378
Opening Hours
Monday to Saturday: 9am - 5.30pm
Sunday: 10.30am - 3.30pm
Please note that the women's shop is open by appointment only on Sundays.
Stephen Lawrence Women's Shop
1 Magnus Court
Chichester
West Sussex
PO19 1AF
Telephone / Fax: 01243 784 486
Opening Hours
Monday to Saturday: 9.30am - 5.30pm
Sunday: By Appointment Only