Jeffrey West
About Jeffrey West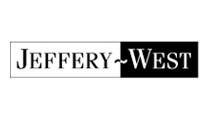 Quality, style, classic design - all worthy descriptions of any pair of Jeffery-West men's shoes. Produced using the highest standards at their production studios in Northampton, Jeffery-West shoes draw their inspiration from the rich history of shoemaking in this region. Northampton is the historical centre of British shoemaking, and all the skills and craftsmanship of the discipline has been the catalyst that has led to Mark Jeffery and Guy West continuing that craft today.
Quality talks. And the classic designs incorporated into the latest styles from Jeffery-West are given plenty of opportunity to shout long and loud about the quality in these shoes. Merging new takes on old designs, the shoes have been brought bang up to date but still manage to retain that air of classic elegance and sophistication that looks so right. Equally at home paired with a suit or a smart pair of jeans, these shoes aren't an impulse buy – they're an investment.
Any photos used are to represent the brand, but may not reflect the exact stock carried in store.
If you have any queries about availability, please contact us before making a visit.
Stephen Lawrence Mens Shop
11 / 14 St. Martin's Street
Chichester
West Sussex
PO19 1LS
Telephone / Fax: 01243 771 378
Opening Hours
Monday to Saturday: 9am - 5.30pm
Sunday: 10.30am - 3.30pm
Please note that the women's shop is open by appointment only on Sundays.
Stephen Lawrence Women's Shop
1 Magnus Court
Chichester
West Sussex
PO19 1AF
Telephone / Fax: 01243 784 486
Opening Hours
Monday to Saturday: 9.30am - 5.30pm
Sunday: By Appointment Only